News, Events & More
Class Legacy Gift Campaign Update Memo 5
Posted: 5/20/2018
Class Legacy Campaign Update:
We're about halfway through the campaign. Calls have been in progress, in tranches, to the class since April, and this will continue until the end of June and we reach everybody. Each of you get a letter, an information sheet, then a call. We have well over 100 donors thus far, and we're making good progress on getting the participation rate to 50%.
All four project areas are being supported, with strong support to the DMP project, and the Naval Academy Fund. After that, the 1972 Athletic Facility & Excellence Project and Project-Based Learning are starting to pick up momentum. Counting the matching from our Anonymous Classmate, we stand today at a little over $3.2 Million out of the $5 Million goal…which is outstanding since we're only now going out to the bulk of the class.
Speaking of "A.C." (our "anonymous classmate"), here's a short note from him:
Dear Classmates,
I am excited about our Class of '72 50th Reunion Legacy Campaign and the support that has been shown during the opening stages of the Campaign.  There are three facets of our campaign that I find particularly appealing:
Our stretch goals of raising $5 million with 50% participation will set a record for a class fundraising campaign at the Academy.  What an honor it will be for our class to lead the way, helping educate and train the leaders of tomorrow at our beloved Alma Mater!
The naming opportunity for the Sports Performance and Rehabilitation Center allows our class to leave a visible legacy on the Academy grounds.  As Alexander Hamilton raps in the musical Hamilton, "I wanna build something that's gonna outlive me!" This our chance to create something that will outlive us.
Most importantly, our campaign includes four diverse components: the Distinguished Military Professor in Character Development, Project Based Learning, the Sports Performance and Rehabilitation Center, and the Naval Academy Fund.  One of these likely speaks to your heart.  Be sure to support that component!  Our participation goal is as important as our financial goal, so please participate at whatever level fits your current situation.
Remember that I will double your impact by matching all contributions dollar for dollar up to $2.5 million!  For those who are wondering, this is a true match program.  I am matching other contributions dollar for dollar and I am hopeful that match will reach the maximum amount of $2.5 million.
Thanks A.C…..for those of you that haven't yet been called that want to go ahead and pledge now, just send me an e-mail and I'll send you the pledge form with instructions.
Thanks,
Jeff Beard
Class of '72 Fundraising Chair
Class Legacy Gift Campaign Update Memo 4
Posted: 5/12/2018
We're now into May, and my hope is that a majority of the class has been contacted and asked for your pledge to our class campaign. I've featured one of the four projects within our campaign every couple of weeks. This is the last component, the Naval Academy Annual Fund, which is the lifeblood of private gift support to USNA.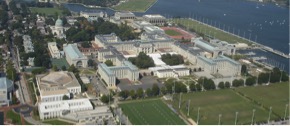 Naval Academy Annual Fund– these unrestricted gifts are the lifeblood of private gift support to USNA. Besides fully funding all Foundation fundraising initiatives, it also provides unrestricted funds to the Supt. annually to support the mission of the Academy as he sees fit. Direct unrestricted support to the Naval Academy Annual Fund gifts a wide array of initiatives and emerging program needs of the Academy, providing the Superintendent the ability to "jump-start" programs in advance of government funding. Examples of recent projects and programs made possible in part by the Annual Fund include:
Blue & Gold Officer support for Admissions
Bancroft Lecture Series
Forrestal Lecture Series guest speaker support
Naval Academy Women's Network activities
General Herres Distinguished Military Professor support
International Scholarship Interview Program
NAPS athletic program support
Finally, the Annual Fund supports the mission of the Naval Academy Alumni Association, providing important member services and benefits such as Shipmatemagazine; alumni chapter, parent club and class reunion support. It also provides resources for the First Gift program, First Class Battalion Receptions at Alumni House/Ogle Hall and I-Day support—all functions that foster early development of a culture of philanthropy and engagement among our newest alumni.
That's it…. and thanks again for your support of our class campaign!
Jeff Beard
Class of '72 Fundraising Chair
Class Legacy Gift Campaign Update Memo 3
Posted: 4/26/2018
Academic: Project-Based Learning
Project-based learning and practical design experiences are an essential part of midshipmen education. First, the sheer complexity of today's naval weapon and engineering systems mandates a multidisciplinary, practical approach to bringing advancements in applied engineering and technology into Naval Academy classrooms.  Second, the Navy requires 65% of each Academy graduating class to major in a Science, Technology, Engineering or Mathematics (STEM) discipline, and an emphasis on project-based learning is a critical aspect of attracting these students. Finally, engineering accreditation bodies are increasingly requiring outcomes-based engineering programs that culminate in a final Capstone design experience.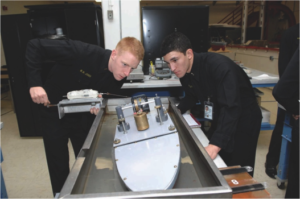 The Academy's annual federal appropriation does not fund the entire range of Project-Based Learning activities. Gift funds are essential to fund the "margin of excellence" between what the federal appropriation supports and what the Naval Academy requires. Expanding the emphasis on Project-Based Learning among all STEM major programs and at all levels of the undergraduate education (from plebe to first-class year) will promote a deeper understanding and retention of coursework, enhance critical thinking skills and excite, attract and ultimately retain midshipmen in STEM majors.
Gift funds are needed to provide the hardware used for the Capstone projects that are designed, built, tested and sometimes redesigned, rebuilt and retested by midshipmen.  Examples of past projects are:
Sailbot – An autonomous small-scale sailboat capable of self-navigating and self-sailing from the US to the UK.
Several satellites that were launched during Space Shuttle missions.
LIDAR based autonomous vehicle (golf cart) braking system.
Concrete canoe for American Society of Civil Engineers competition.
Formula SAE Racecar
Human powered submarine
Thanks for your support!
Jeff Beard
Class of '72 Fundraising Chair
Class Legacy Gift Campaign Update Memo 2
Posted: 4/10/2018
As I indicated a couple of weeks ago, I'm highlighting one of the four projects that make up our class legacy campaign. More of you should have received your letters asking for your support for our campaign, and one of our campaign reps will be trying to reach you over the coming days & weeks. To provide you with more background on each of the projects, here is the second component of our campaign, the Distinguished Military Professor for Character, a role we've supported for 15 years!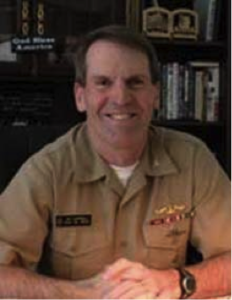 Moral: Distinguished Military Professor for Character– Recently retired senior military officers are uniquely suited to educating midshipmen in the critical areas of leadership, character development, and ethics. These Distinguished Military Professors (DMPs) manage a significant portion of the Academy's Leadership, Education, and Development (LEAD) core program, providing valuable continuity as a complement to rotating active duty military faculty, and delivering tremendous dividends in the development, execution, and assessment of LEAD courses. There are currently three DMPs, and classmate Rick Rubel continues to fill the role of the DMP for Ethics. The Class of '72 has funded the DMP for Character (Jim Campbell) for over ten years, and we are proposing to continue to support this role (fyi…Jim is in the final year of his contract and finishes next month). Class feedback is supportive of the principle for rotating the position periodically with an emphasis in attracting candidates with recent fleet experience. We'd like to aim for a level of funding of around $1 Million, which would extend the role for 6-7 more years, after which it will be supported by another (younger) class.
Thanks again for your support!
Jeffrey Beard
Class of '72 Fundraising Chair
Class Legacy Gift Campaign Update Memo 1
Posted: 3/27/2018
The class campaign has kicked off this month, and many of you have already received a letter or e-mail asking for your support. For those that haven't, you'll get yours in April, May, or June as we're dividing the call-ups of classmates in two-week tranches.
While I realize you've already seen the four projects that make up our Legacy Gift Campaign, I'm going to feature each one every couple of weeks until May so that you might consider which one(s) you'd like to support. If you're in support for all of them, you can elect to split your pledge as recommended by our class leadership: 50% (Athletic Facility & Excellence)/20% (DMP for Character)/15% (Project Based Learning)/15% (Naval Academy Annual Fund). So, to start off, here's more detail on the Athletic Facility & Excellence Fund:
Physical: Athletic Facility and Excellence Fund (AF&E) – (The Physical Mission Center)
The Naval Academy prepares outstanding young men & women to become warriors ready to serve and lead in the Navy and the Marine Corps – a mission that makes the cultivation of athletic prowess and physical abilities a key component of the midshipmen experience. The Physical Mission Center for Academic & Athletic Excellence will celebrate the achievements of Navy's student-athletes, recognizing the vital ways that the Academy's commitment to physical mission helps instill qualities in these young men & women that contribute to their successful leadership in the fleet, the business world, and in service to their communities. The Center will be located in Ricketts Hall, home to the Naval Academy Athletic Association, and its close proximity to the Academy's main entrance and the Visitor's Center will ensure that nearly all of the 1.5 million annual visitors to the Academy will have the opportunity to learn more about the rich heritage, storied past, and promising future of Navy Athletics and its midshipmen student-athletes. Planned features include:
A 360-degree immersion Video and graphics gallery
N* Gallery celebrating Navy's historic rivalry with Army
Football Hall of Honor
All Sports Hall of Honor
Legacy of Excellence Scholar-Athlete Exhibit
Grand Reception Hall
Executive Board Room
Catering & Event Facilities
The Class of 1972 has a specific naming opportunity within the Center if we can raise $2.5 Million for this component during our campaign. Also, this project "counts" toward the Athletic Excellence Fund for those of you that have supported this in the past.
Jeff Beard, Class of '72 Fundraising Chair
Happy March 1st & St. David's Day!
Posted: 3/2/2018
Our class legacy campaign will launch this month, and next week we'll begin the process of sending out e-mails, letters, and beginning the phone calling process. The Class Campaign Committee has been busy during the pre-campaign making contact with 100 or so of the top class participants from previous campaigns. Almost all said they are planning to participate in the campaign, and look forward to the call from one of our reps. We have briefed the vendor and the reps that will be making the call, and I'd have to say they look impressive! Here's a quick synopsis on where we stand as of March 1st:
We ran a behind-the-scenes pre-campaign to ensure we were on target with both the projects and our ability to hit the $5 Million goal. I'm pleased to say that both objectives were met. We've already been able to raise $350,000 for the "Class of '72 Sports Performance & Rehabilitation Center", about the same amount for the DMP, $65,000 for the Project-Based Learning Fund, and $450,000 for the Naval Academy Fund from the classmates contacted during the pre-campaign. With the match from our anonymous classmate, this puts us at almost half of our $5 Million goal!
As mentioned, we'll kick off the formal campaign this month, and we hope to finish up with most of the class by the end of June. Calls to the class will be made in "tranches" with the letters and e-mails going out first, followed by the call. We hope in this way you all can be on the lookout for the call. The reps may try up to 15 timesto ensure we reach as many as we can in the class.
Our gift goal is $5 million – Largest USNA Class Gift goal ever! We have a very generous classmate who is challenging the rest of us to raise $2.5 million for our 50thReunion Gift. He will match our donations dollar for dollar up to $2.5 million.  $2.5 + $2.5 = $5 million! Remember, he will only match what we give! Our participation rate goal is 50% of the class!
Our Gift Will Support: (1) Moral (2) Mental and (3) Physical dimensions of midshipmen development
Our class gift initiatives:
$2.5 Million raised will support the 1972 Athletic Facility and Excellence Fund. Do you remember "Misery Hall?" The place we used to go to get taped up, rubbed down, and otherwise repaired so we could continue to compete in our chosen sports. Our gift will support construction of the Terwilliger Physical Mission Center, which, if we meet our $2.5 million goal, will house the 1972 Sports Performance and Rehabilitation Center – the new '72 Misery Hall that will serve all mids, not just varsity athletes.
$1 Million raised will support the 1972 Distinguished Military Professor in Character Development. This will extend and conclude the Class of 1972's 15 years of support for this critical position!
$750,000 raised will support the 1972 Project Based Learning Fund. Our gift will support hardware and logistic costs for capstone projects required of all engineering majors. Interdisciplinary teams of mids conceive, design, build, test, and sometimes redesign, rebuild and retest autonomous land, air and sea vehicles, low-earth-orbit satellites, cockpits of the future, remote sensing systems, and other things we never dreamed possible as mids!
$750,000 raised will support the Naval Academy Fund, which provides funding to be used at the Supe's discretion to support the USNA mission. The Naval Academy Fund fully funds the operation of the USNA Foundation and helps provide the Alumni Association benefits and services we all enjoy.
Collectively I can tell you we are all making a difference. Thank you for your willingness to play your part in this impressive class campaign that will go down as the largest legacy class campaign in USNA history!
Jeff Beard
Class Fundraiser
Sponsoring the USNA Sport Parachuting Team
Posted: 1/30/2018
To update you about fundraising to help the USNA Parachute Team get Navy-themed parachute rigs for competitions and demos, first let me openly admit that I'd never be hired as a professional fundraiser… I'm sure there are rules of thumb that include not asking people for money right before the Christmas holidays, for example! But the timing is what it is. We have the Inter-Service Academy Meet (ISAM) coming in April, which will likely also include midshipmen doing a demo jump alongside Army cadets into Michie Stadium at West Point for the Army-Navy lacrosse game. We hope to have the mids outfitted appropriately for those events and you can't buy those rigs off the shelf at the last minute, so that has to serve as my excuse for the poor timing!
A big "Thank you" to those of you who've contributed so far. I addressed the club and team mids (nearly 50) in Rickover a couple of weeks back, and I can't overstate how much they appreciate the alumni support.
Bad timing or not, we are just short of halfway to our goal with about $19,950 to date at last count. Right now, it looks like two parachute containers are set to be embroidered with class numbers: Class of 1977 and Class of 1979 (actually maybe two for them). It's great to have "Platinum Level members," of course, and their photos will hang proudly in the team parachute loft, but I still believe in the value of many small contributions adding up, so if you have the opportunity, please be part of this effort and put in anything you can, no matter how small. I've reached out to hundreds of folks now, and you can imagine what even $25-50 contributions can do with numbers like that.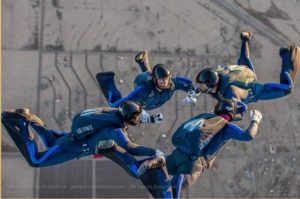 Since a picture is worth a thousand words, please take a quick look at the photos to the right (top – Air Force; middle – Navy; bottom (Army) and you'll see why we're working so hard to outfit the Navy team to – yes – look like a Navy team! Note the complete contrast to the Air Force and West Point teams. The team mids purchase Navy-style jump suits on their own (about $350 a copy), so they have at least that in common, but they won't be able to do demonstration jumps into the stadium for the Brigade until they fully look like a team, for obvious reasons.
Thanks to great support from the front office, the team competed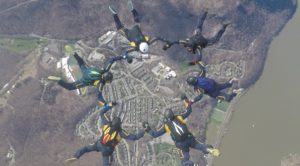 in the USPA National Collegiate Parachuting Championships in Lake Wales, Florida with ten other teams over the Christmas break. The return of the mids to the competition was VERY popular among both event organizers and student participants and a lot of great relationships were formed and support offered for the team's growth. I'm hopeful when they're up at West Point for the ISAM competition that at least one team member will be sporting a Class of 1972 rig!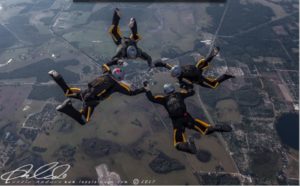 Again, the USNA Foundation is doing the work for us and the easiest way to contribute is online:
Go online at www.usna.com and select "Make a Gift" and then make sure when you put in your information, type in "USNA Parachute Team ECA" in the free-text block marked "Other." Don't forget that crucial step!!!! Make sure to include 1972 in the Class box to get credit for the contribution.
If you don't like the online routine, send a check to the Foundation with "USNA Parachute Team" in the Memo line, accompanied by a short note saying you are donating this money specifically for the Parachute Team.
Address your note and check to:
USNA Foundation
291 Wood Road, Beach Hall
Annapolis, MD 21402-1254
ATTN: Class Giving Coordinator
I'll let you know if we're successful raising enough for a Class of 1972 rig, but otherwise this will close out my effort with the group. Thanks again to all of you for your consideration and to the Class for allowing me to use this venue one more time.
Tried and true —
Bill Boniface '72
2018 Another Link in the Chain (ALITC) Events
Posted: 1/15/2018
January 2018
• Incoming 4/C Link provides class history for Reef Points 2022-1972
• 1/C Battalion Receptions 2018-1968 (17, 24, 31 Jan)
February 2018
• 1/C Battalion Receptions 2018-1968 (8, 21, 28 Feb)
March 2018
• 1/C Link provides AA with names of 12 presenters of bars at Graduation 2018-1968
April 2018
• 3/C Bonds of Gold 2020-1970 (24 April)
May 2018
4/C Sea Trials Ceremony 2021-1971 (15 May)
1/C Graduation Brief 2018-1968 (16 May)
3/C Youngster Luau 2020-1970 (16 May)
2/C Ring Dance 2019-1969 (19 May)
4/C Herndon Climb 2021-1971 (21 May)
1/C Color Parade 2018-1968 (24 May)
1/C Graduation 2018-1968 (25 May)
June 2018
4/C I-Day 2022-1972 (28 June)
4/C I-Day Welcome Aboard Picnic 2022-1972 (28 June)
4/C I-Day Oath of Office Ceremony 2022-1972 (28 June)
4/C Parade during Summer Training 2022-1972
July 2018
• 4/C Honor Coin Ceremony 2022-1972 (16 July)
August 2018
4/C Plebe Parent Weekend 2022-1972 (9-12 July)
1/C Delayed Graduation 2018-1968
2/C Commitment Dinner 2020-1970
November 2018
• 1/C Service Community Assignment Night 2019-1969
December 2018
• 1/C Delayed Graduation 2018-1968 (TBD)
Previous Designs for Class Honor Coins
Posted: 11/15/2017
The Class of 72/22 honor coin will be presented to the plebes of the class of 2022 in the summer of 2018 as part of the Another Link in the Chain program.  Our design for the coin requires that on one side, the Academy Crest is emblazoned, and that on one side (either the side with the Academy Crest or the reverse side) the words "Courage, Honor, Commitment" are inscribed.    The design on the reverse side is of ours.   It is recommended that it be simple and signify the bond between the two classes.   Any one wishing to submit a design for the coin, please send it to Gary Coyle, at sherman2c@aol.com .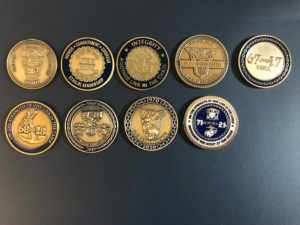 USNA Parachute Team – fund raising letter from Bill Boniface
Posted: 11/9/2017
November 2017
Class of 1972 classmates –
Some of you heard me make an initial pitch for the USNA Parachute Team at the class Business Meeting at our 45th Reunion. Back in our days on the Yard, parachuting – both military and sport – was a pretty common thing. Jumping at the Diary Farm was supplemented with sport jumping out at the Pelicanland Drop Zone in Ridgely. We watched the blue and gold round "Paracommander" canopies descend during June week 1972 when a few of our classmates jumped onto Farragut Field.
With outstanding volunteer help from a few highly talented sport parachuting instructors and competition champions, today's team has reached levels of skill and experience in the sport far beyond those we were ever able to accomplish back in the day. However, unlike the Air Force Academy and West Point, who have half-century old, well-established parachute teams with strong institutional financial support, permanent staff and strong material support, Navy's team remains an ECA that is almost entirely dependent on the participating midshipmen's personal funds.
What the team currently lacks is funding to purchase common, Navy-themed team parachute systems they can jump in competitions and demonstration jumps to represent the Brigade. Doing exhibition jumps into Navy-Marine Corps Memorial Stadium (as Air Force and West Point cadets do at every home football game in their stadiums) is a primary goal of the midshipmen and one of the first requirements is to have distinctive Navy gear that can be passed down each year rather than have personal rigs that leave with each graduate.
Five parachute systems that can be kept, well-maintained, and passed down each year by the team for use over the next decade are the team's initial goal. Each complete system (main parachute canopy, reserve parachute canopy, parachute container and automatic opening device) runs about $9,500, for a total need of about $47,500.
One incentive to contributing (and one that West Point's team has used successfully) is that each parachute rig sponsored by a class for the full amount will have its class name permanently embroidered on the right side of the parachute containers as a frequent reminder of the class' generous support for the midshipmen who jump them!
I'd love to see "Class of 1972" rigs being worn by the midshipmen team members for the next decade and would be deeply grateful if you would consider taking part in the effort to make that a reality.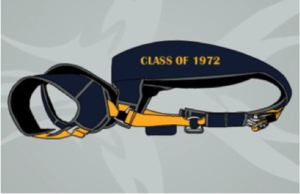 Although this is not part of our class 50th reunion project goal, I'm nonetheless asking classmates to additionally consider a contribution to this effort. Any gifts to the team will be tax-deductible, and can be accomplished in any one of the following three ways:
(1) Go online at www.usna.com to the USNA Foundation; select "Make a Gift" and then go to the free-text block marked "Other."   Put in your contribution amount and annotate the right-hand block "USNA Parachute Team ECA." Make sure the class year "1972" is in the class block and enter your credit card information.
(or)
(2) Send a check made out to the "USNA Foundation" with "USNA Parachute Team" in the Memo line, accompanied by a short note saying you are donating this money specifically for the Parachute Team and that you're from the Class of 1972.
While your gift would not count against our class project goals, they would count as part of your USNA Foundation annual giving level (Tecumseh Club, Herndon Club, President's Circle, etc.).
Address your note and check to:      USNA Foundation
                                                      291 Wood Road, Beach Hall
                                                      Annapolis, MD 21402-1254 
                                                      ATTN: Class Giving Coordinator
The USNA Foundation will send out tax receipts and thank you letters for any contributions done online or by check. They charge a 5% administrative fee, but they are very good at this (it's their full-time job!) and are very prompt with acknowledgements and receipts.
(or)
(3) Finally, you can instead make a contribution directly to the Midshipman Welfare Fund through the USNA Comptroller. You can write a check to "United States Naval Academy" with "MWF/Parachute Team" in the Memo line with a brief note specifying that your contribution is to go specifically to the USNA Parachute Team.
100% of the contribution will go to the team (no administrative charges) but recognize that this is not their primary business and you might not receive acknowledgement as quickly as you would through the USNA Foundation. Alumni should note that contributions made this way would not be applied toward your USNA Foundation annual giving levels.
These contributions should be sent to:    Comptroller Gift Fund Division
                                                               181 Wainwright Road
                                                               Annapolis, MD 21402
If you choose this method, please shoot me an e-mail (boniface72@gmail.com) so I can assure it gets counted as a "Class of 1972" contribution.
Through your generosity, I'm confident we'll be able to support the midshipmen of the USNA Parachute Team in a very meaningful way and see one or more "Class of 1972" parachute systems coming down over Navy in the spring.
Thank you all!
Tried and True –
Bill Boniface '72
* This solicitation for the USNA Parachute Team to alumni and supporters is a private effort not connected in any official way with the U.S. Naval Academy. *