News, Events & More
Class Legacy Gift – Rehab Center
Posted: 10/22/2020
Attaching photos that shows our part of the results from Class Legacy Gift to USNA.  Got to admit, pretty proud of what 1972 has stepped up to sponsor!!! – Bob Leib, Class President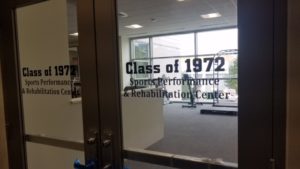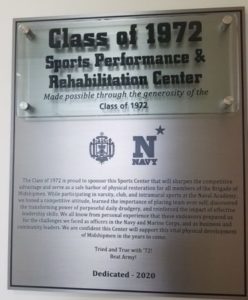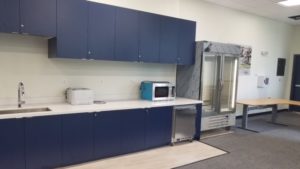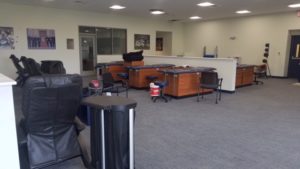 Bonds of Gold Ceremony
Posted: 10/18/2020
The Bonds of Gold Ceremony for the Class of 2022 which was postponed from this past Spring due to the Coronavirus outbreak, was held in Memorial Hall on October 5, 2020.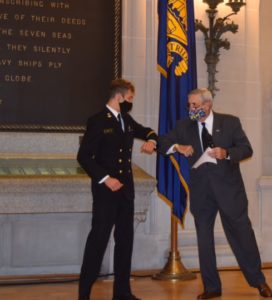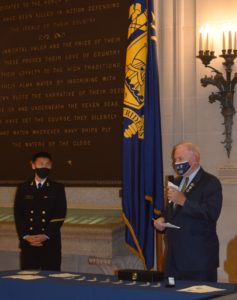 Bob Leib, Tal Manval, Gary Coyle, and Skip Kohler were honored and proud to attend the ceremony and present the Class Rings from our Classmates to be melted down and joined in the bonds of gold with the Class of 2022.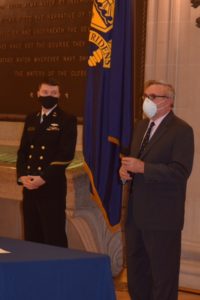 Classmates and families donating Class Rings for this momentous bonding were:
Robert Byrd                                        3rd Company
Richard (Rick) Gutekunst                   29th Company
Terrence S. Kennedy                           3rd Company
Daniel G. Hawthorne                            7th Company
Douglas (DK) Rush                             25th Company
Edward Sievers                                   19th Company
John D. Blosser                                   21st Company
Gary Coyle                                           27th Company
GO NAVY!  GO CLASS OF 2022!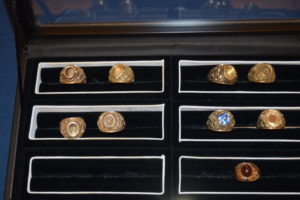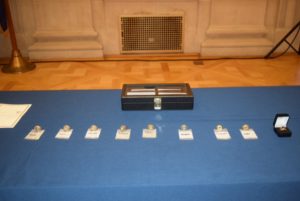 USNA Class of 1972 Fund
For many years, the Class of 1972 Class Fund was a designated 501(c)(3) non-profit organization, approved by the IRS, and designated to profile financial support for Naval Academy and Class of 1972 project activities.  This allowed any individual, and particularly, USNA Class of 1972 graduates, to make tax-deductible donations to support projects that either supported the US Navy's or the US Naval Academy mission.
At some point in years past, our non-profit designation lapsed, and in order to avoid tax liability issues for classmate gifts totaling almost $124,900, the Class Board of Directors transferred the funds to the US Naval Academy Foundation, a designated 501(c)(3) non-profit organization and approved by the IRS to provide financial support for the Naval Academy.  After consultation with the Foundation it was determined that these "funds" could be applied to any project or area that has already been endorsed or approved as part of the Superintendent's Strategic Priorities.
While there were numerous opportunities to choose from, the Board of Directors selected those projects that had been discussed at recent class officer meetings, previously endorsed and/or approved by the Class or, have been impacted due to the Coronavirus outbreak and its impact on funding support.
After extensive deliberations the Board of Directors has directed the Foundation to allocate the $124,900 of Class funds as follows:
USNA Musical Activities Fund                $60,000
The Parachute Team                       $21,900  ($7000 to procure (1) new rig to be a "Link in the Chain/Class of 2022 rig) and $14,900 "seed money" to support the eventual hiring of a "team coach."
The Centre for Experiential Leadership Development (ELD)$43,000
The Class owes a huge thanks to our Treasurer, Dan Weaver who thoroughly researched the options available to us to avoid tax liability issues for Classmates.  Also a BZ goes out to Jeff Beard who was our point man working with the Foundation to ensure our efforts were in alignment with the Superintendent's Strategic Priorities.
Well Turned Pens – update
Posted: 7/29/2020
"Thanks to those classmates who have purchased pens, we just received our first "royalty" check for $330.  These funds go directly into our class treasury.  An $825 contribution was also made to NMCRS.   John Muncie has 12 blanks engraved and ready to go, so if you haven't yet ordered your pen; or need a quick turn on a gift pen, you can place your order at 
http://www.wellturnedpens.com
."
USNA 72 – Well Turned Pens
Posted: 7/8/2020
Classmates,
For the past year John Muncie (USNA '71) has been making commemorative pens for his class's upcoming 50 year reunion.  All proceeds have been donated to his class and most recently toward COVID relief.
He has made us an offer we can hardly refuse.  John has been making and selling ballpoint, rollerball, and fountain pens since 2011, and has offered to make pens for us, engraved with our class crest.  But here is the best part of the deal!  For every pen you buy, John will make a $10 donation to our class fund and a $20 donation to the Navy-Marine Corps Relief Society.  The funds John keeps will go to cover his expenses.
John is offering two styles of ballpoints: a Gatsby with either rhodium or titanium gold accents, and a more upscale Sierra Elegant Beauty with either platinum/black titanium or black and gold titanium accents.   You can see samples of his pens at, www.w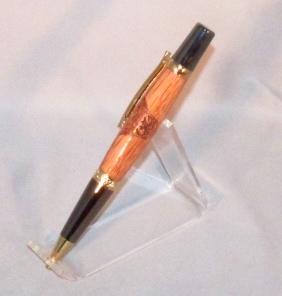 ellturnedpens.com.
The Gatsby normally retails for $60 and up, and the Sierra Elegant Beauties for $70 and up.  Your cost for one of these pens is just $55 or $65 respectively, plus shipping.   Each pen is individually hand crafted, carries an unconditional lifetime warrantee for workmanship, and comes with a top of the line Parker-compatible refill and a protective felt sleeve.
Bob Leib, Bill Boniface, and I have seen samples of John's work and can attest to its quality.
You can order your pen today at www.wellturnedpens.com.  Click on the USNA Class of 1972 menu option at the top.  In anticipation of our 50th reunion celebration, John suggests engraving the pen with our class crest and the inscription, 50th REUNION 1972 – 2022.
Once John has your order and payment, his goal is to have your pen in the mail within two weeks.   However, note that he is a one-man operation (no mass production capability) and is already making pens for his classmates and their own 50th class reunion.  With your order you should stipulate whether you would prefer blue or black ink and if the intended user of the pen is a right or left-handed writer.
If you have any questions, John's email is jcmuncie71@epbfi.com. You can also view his work at www.wellturnedpens.com.
Tried and True with '72!
Chapel Heirlooms
Posted: 5/17/2020
Classmates – The chapel dome is undergoing much needed refurbishment and USNA is making pieces of the old dome available through a unique offer.  Please see the attached flyer for further information.  This is an opportunity to own a piece of our history.  Go Navy!
See this flyer, USNACustomizedFlyer
or go to www.USNAChapelDome.com
50th Reunion
Posted: 3/17/2020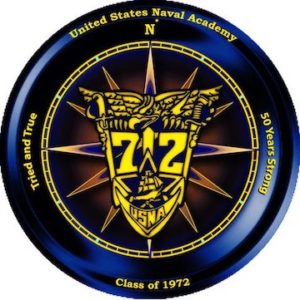 Looking forward to seeing you at the 50th reunion October 28-30, 2022 – more information to come (with 30 months to go!)
Gary Besaw built this amazing image for our 50th. Many thanks Gary!
Class Legacy Campaign Update: 4th Company takes top participation prize
Posted: 2/16/2020
Last September, I sent an e-gouge around to thank the 306 classmates that had participated in our 50th Reunion Campaign, and put a challenge out to anyone that had not yet participated if they would consider sending in a minimum contribution in order to get our participation rate up closer to our goal of 50% (we stalled out at 44%). The goal was to see if we could get some of the lower participating companies to improve their ranking…with the incentive that the winning company would receive for each of their participants (besides bragging rights) one of our 1972/2022 "link-in-the-chain" coins that we gave to each member of the class of 2022 during their plebe summer!
We used the company reps to help facilitate the effort, and said we'd run the campaign through the end of the 2019 calendar year (December 31st).
Well, the company reps did a great job…we've now pulled together the year-end data, and the result was an 
increase in participation to a new total of 340 classmates 
that have now participated in the campaign, which increases our overall rate of participation to 
46%
….awfully close to our goal! Regarding the winning company, 
congratulations go to 4th company, which zoomed up (from 7th place) to 1st place with 26 classmates
, followed by 12 other companies that achieved double digit participation results. Very impressive!
In my recent e-gouge, I provided the final standings for the top 13 companies that broke through the double-digit participation level….and I'm happy to provide the final standings for any other company if anyone is interested. The 26 classmates from 4th Company will all receive one of our "link-in-the-chain" coins as a token of our class's appreciation.
I'm including a one-page summary of our campaign's status, as we now enter its third year. We should all consider this latest "participation" campaign as a "win-win" as we've had, in total, greater participation in this final campaign by our class than in any previous campaign that we've ever run! We blew through the (what we thought) unrealistic goal of $5 Million, and our totals now exceed $6 Million ($6.11 Million to be exact). THIS IS A RECORD – NO OTHER CLASS IN USNA HISTORY HAS RAISED THIS MUCH FOR A CAMPAIGN! My thanks to all of you (and especially our anonymous donor who set a "matching" goal of $2.5 Million that we all met). Our collective effort has allowed us to contribute to the moral, mental, and physical dimensions of midshipmen development through the funding of four separate projects, which are listed on the slide below: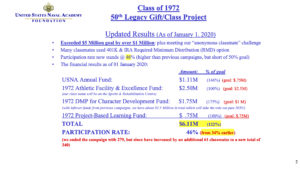 Jeff Beard
ALITC – Coins now available!
Posted: 2/14/2020
The Class has a limited number of Honor Coins available for purchase.  The price is $22.72 (note the clever pricing).  The money will be used to support the "A Link in the Chain" program.  The coins are available from Gary Coyle.  To order, send a check for $22.72, made out to USNA Class of 1972 to:
Gary Coyle
ALITC Honor Coin
11204 Silver Tree Place
Columbia, MD 21044-5703
You can also contact Gary at sherman2c@aol.com  or 443-745-2231.   Orders will be filled as received.  If orders exceed the number of coins available, you will be contacted to see if you want to wait for a new striking of the coin.
Chipping In – Part II
Posted: 10/18/2019
First of all, let me thank all of you that "chipped in" on the wording for the plaque that will be mounted at the entrance of the "Class of '72 Sports & Rehabilitation Center". We received over 30 responses, and it was quite helpful. I will post the final wording that was approved for the plaque in a separate note, along with some photos of the dedication ceremony scheduled for next month.
This e-gouge is to now ask for you to "chip-in" specifically as it relates to point #3 below.
We raised $5.86 Million (versus a goal of $5 Million) to support four project areas. A record for class legacy campaigns!
We now have a new DMP for Character, Tom Roberts, who replaces Jim Campbell
Over the past six months, our participation rate for the class overall has crept up to 44% (versus our goal of 50%) with 33 additional classmates coming into the campaign.
The renovation and conversion of Ricketts Hall, converting it to a new Physical Mission Center to include our Sports & Rehabilitation Center is underway.
First of all, let me thank the 306 of you that are already participating in the campaign. Bravo Zulu! This particular memo is now aimed at those of you that, for whatever reason, haven't yet participated in the campaign…. and I know that we're never going to get 100% as people have different priorities…all well and good. However, if we get another 50 classmates (that's one or two per company), we will hit our 50% goal.
So, I'm calling this latest effort our "chipping in" mini campaign, aimed at our 36 companies to see if we can get some of the lower participation companies to improve their ranking, and to see which company can be #1 with the most participants. The mini campaign is so named as it only takes $1.00 which can be included with a signed pledge form saying that you are donating and indicating which of the four project areas you'd like your donation to go towards.
I've already been in contact with the company reps, and they've asked for some time to reach out to many of you…and indeed we've already seen a few more classmates being added to the rosters. I'm now asking you to review your company's results, and thus am providing with this memo: (1) a summary participation ranking, by company (by the way, 28th Company is in first place with 18 participants…. and 23rd Company is in last place with only one participant) AND (2) A link to the pledge form: http://1972.usnaclasses.net/wp-content/uploads/sites/17/2018/03/Class-of-1972-Pledge-Form.pdf
So, print off the pledge form, fill it out, include your dollar, and send it to the Foundation address listed on the form. We'll keep this mini-campaign short, run it through the end of the year, and announce the results in early 2020. Oh yeah, I almost forgot… the winning company will receive for each of their participants (besides bragging rights) one of our 1972/2022 "link-in-the-chain" coins that we gave to each member of the class of 2022 last summer!
Thanks
Jeffrey Beard