Feb '22 update: Class of '72 Plank-Owner Campaign Project
Posted: 1/31/2022
Happy (Chinese) New Year & welcome to 2022, meaning we're approaching our 50threunion in October. At this year's reunion business meeting, I'll provide the entire class a report regarding how we've done with respect to our last successful campaign (the '72 Athletic Facility & Excellence) and our current Class of '72 Plank-Owner Campaign.
But first, some nautical trivia: (1) A Sailing vessel having two masts, the 'aft', i.e., rear mast, being taller than the front (for'ard) mast is called a ______________? and (2) The mount used to house the steering compass is called a ________? (Answers at the end).
Regarding the last five-year campaign ("72 Athletic Facility & Excellence), you all know we broke the record on this one. No class has ever had a more successful campaign in the entire history of USNA class campaigns. We raised $6.8 Million (goal was $5 Million), successfully funded four components (the Sports & Rehabilitation Centre – $2.5 Million; DMP – $1.8 Million; Project-Based Learning – $ 750K; & the Naval Academy Fund – $ 1.7 Million). We also had 404 class donors (almost 50% of the eligible class). When you get into the Yard this fall, go check out the Ricketts Hall renovation and see the plaque outside our Centre, which reads:
The Class of 1972 is proud to sponsor this Sports Centre that will sharpen the competitive advantage and serve as a safe harbour of physical restoration for all members of the Brigade of Midshipmen.  While participating in varsity, club, and intramural sports at the Naval Academy, we honed a competitive attitude, learned the importance of placing team over self, discovered the transforming power of purposeful daily drudgery, and reinforced the impact of effective leadership skills.  We all know from personal experience that these endeavours prepared us for the challenges we faced as officers in the Navy and Marine Corps and as business and community leaders.  We are confident this Centre will support this vital physical development of Midshipmen in the years to come.
Regarding our current campaign (Class of '72 Plank-Owner Project), we're not doing quite as well. To-date we've raised $ 464 K (of a $750 K goal) and 31 classmates have participated thus far. My hope is that we can stir up some interest, now that it's a reunion year… and so that I don't have to report back to you in October that we fell short of goal (for the first time) in our last & final campaign! So, cutting to the chase, here's my pitch:
We're raising funds for the new Alumni Association & Foundation Centre (AAFC), which is currently
being constructed outside the Yard & across the road from the baseball field. It's a $36 Million project and many classes are helping to fund it. The facility—targeted to open in 2023—will provide a premium venue for a wide range of alumni events, streamline, and enhance Alumni Association and Foundation operations and provide an ideal space to celebrate alumni achievements in all aspects of society—all of which help support the Naval Academy mission and strengthen the alumni network.
Our $750 K will go toward: (1) A class naming opportunity ($500 K) for a conference room AND (2) a $250 K class major "plank-owner" plaque that would be displayed with other class plaques in the North Garden Terrace (see images below). Funds raised so far mean we have the "plaque", but we are not quite halfway toward the conference room goal.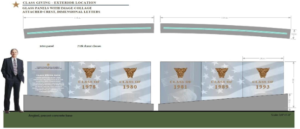 For those of you that pledged to our last successful campaign, the last pledge comes due this year (2022). Please consider extending your pledge to this new campaign from 2023 onward (up to five years). Here's a like to our class pledge form, which can be filled out online, saved, and sent directly to USNA via an e-mail: http://www.bit.ly/72pledgeform
Some of you are fortunate enough to have IRAs to help fund your retirement but may find you don't really need to draw down the full required minimum distribution (RMD) which will begin for us at age 72. This RM
D will be counted by the IRS as income, meaning you'll need to report it for both state and federal taxes. Please consider using a portion of your RMD as part of a qualified charitable deduction (QCD), allowing you to avoid paying taxes on the amount being donated, even if you file the short form. Here's a link with more information on the QCD: http://www.usna.com/plannedgivingIRAQCD. If you'd like to do this, but are confused, let me know & I'll get you some help.
Of course, there's always the option to send in a one-time check or VISA donation via the link above.
So, that's my pitch. if you are interested in participating in this new class campaign but have not yet gotten around to filling out the pledge form, please consider doing so now by clicking on the link provided. If you have an IRA, please consider saving yourself the income tax "hit" by using the QCD tool to donate directly from your IRA.
The answers to the quiz: (1) A sailing vessel having two masts, with the rear mast being taller than the front is called a Schooner. Other vessels such as ketches, yawls, and brigs also have 2 masts, but do not meet the description of the schooner. (2) The mount used to house the steering compass is called a binnacle. On smaller vessels the steering compass is normally fixed to the cockpit bulkhead rather than on a separate mount.
Thanks again for your help & support on this. Let me know if you have questions or need some help!    Jeff Beard (jeffreyb72@icloud.com).
«
Class of 72 Ship's Stores