Class Legacy Gift Campaign Update Memo 4
Posted: 5/12/2018
We're now into May, and my hope is that a majority of the class has been contacted and asked for your pledge to our class campaign. I've featured one of the four projects within our campaign every couple of weeks. This is the last component, the Naval Academy Annual Fund, which is the lifeblood of private gift support to USNA.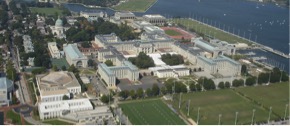 Naval Academy Annual Fund– these unrestricted gifts are the lifeblood of private gift support to USNA. Besides fully funding all Foundation fundraising initiatives, it also provides unrestricted funds to the Supt. annually to support the mission of the Academy as he sees fit. Direct unrestricted support to the Naval Academy Annual Fund gifts a wide array of initiatives and emerging program needs of the Academy, providing the Superintendent the ability to "jump-start" programs in advance of government funding. Examples of recent projects and programs made possible in part by the Annual Fund include:
Blue & Gold Officer support for Admissions
Bancroft Lecture Series
Forrestal Lecture Series guest speaker support
Naval Academy Women's Network activities
General Herres Distinguished Military Professor support
International Scholarship Interview Program
NAPS athletic program support
Finally, the Annual Fund supports the mission of the Naval Academy Alumni Association, providing important member services and benefits such as Shipmatemagazine; alumni chapter, parent club and class reunion support. It also provides resources for the First Gift program, First Class Battalion Receptions at Alumni House/Ogle Hall and I-Day support—all functions that foster early development of a culture of philanthropy and engagement among our newest alumni.
That's it…. and thanks again for your support of our class campaign!
Jeff Beard
Class of '72 Fundraising Chair
«
Class Legacy Gift Campaign Update Memo 3