USNA 72 – Well Turned Pens
Posted: 7/8/2020
Classmates,
For the past year John Muncie (USNA '71) has been making commemorative pens for his class's upcoming 50 year reunion.  All proceeds have been donated to his class and most recently toward COVID relief.
He has made us an offer we can hardly refuse.  John has been making and selling ballpoint, rollerball, and fountain pens since 2011, and has offered to make pens for us, engraved with our class crest.  But here is the best part of the deal!  For every pen you buy, John will make a $10 donation to our class fund and a $20 donation to the Navy-Marine Corps Relief Society.  The funds John keeps will go to cover his expenses.
John is offering two styles of ballpoints: a Gatsby with either rhodium or titanium gold accents, and a more upscale Sierra Elegant Beauty with either platinum/black titanium or black and gold titanium accents.   You can see samples of his pens at, www.w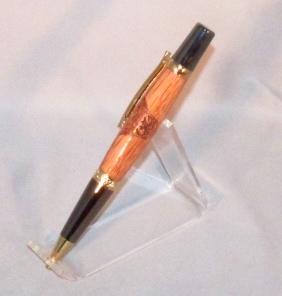 ellturnedpens.com.
The Gatsby normally retails for $60 and up, and the Sierra Elegant Beauties for $70 and up.  Your cost for one of these pens is just $55 or $65 respectively, plus shipping.   Each pen is individually hand crafted, carries an unconditional lifetime warrantee for workmanship, and comes with a top of the line Parker-compatible refill and a protective felt sleeve.
Bob Leib, Bill Boniface, and I have seen samples of John's work and can attest to its quality.
You can order your pen today at www.wellturnedpens.com.  Click on the USNA Class of 1972 menu option at the top.  In anticipation of our 50th reunion celebration, John suggests engraving the pen with our class crest and the inscription, 50th REUNION 1972 – 2022.
Once John has your order and payment, his goal is to have your pen in the mail within two weeks.   However, note that he is a one-man operation (no mass production capability) and is already making pens for his classmates and their own 50th class reunion.  With your order you should stipulate whether you would prefer blue or black ink and if the intended user of the pen is a right or left-handed writer.
If you have any questions, John's email is jcmuncie71@epbfi.com. You can also view his work at www.wellturnedpens.com.
Tried and True with '72!
«
Chapel Heirlooms