Class Legacy Campaign Update: 4th Company takes top participation prize
Posted: 2/16/2020
Last September, I sent an e-gouge around to thank the 306 classmates that had participated in our 50th Reunion Campaign, and put a challenge out to anyone that had not yet participated if they would consider sending in a minimum contribution in order to get our participation rate up closer to our goal of 50% (we stalled out at 44%). The goal was to see if we could get some of the lower participating companies to improve their ranking…with the incentive that the winning company would receive for each of their participants (besides bragging rights) one of our 1972/2022 "link-in-the-chain" coins that we gave to each member of the class of 2022 during their plebe summer!
We used the company reps to help facilitate the effort, and said we'd run the campaign through the end of the 2019 calendar year (December 31st).
Well, the company reps did a great job…we've now pulled together the year-end data, and the result was an 
increase in participation to a new total of 340 classmates 
that have now participated in the campaign, which increases our overall rate of participation to 
46%
….awfully close to our goal! Regarding the winning company, 
congratulations go to 4th company, which zoomed up (from 7th place) to 1st place with 26 classmates
, followed by 12 other companies that achieved double digit participation results. Very impressive!
In my recent e-gouge, I provided the final standings for the top 13 companies that broke through the double-digit participation level….and I'm happy to provide the final standings for any other company if anyone is interested. The 26 classmates from 4th Company will all receive one of our "link-in-the-chain" coins as a token of our class's appreciation.
I'm including a one-page summary of our campaign's status, as we now enter its third year. We should all consider this latest "participation" campaign as a "win-win" as we've had, in total, greater participation in this final campaign by our class than in any previous campaign that we've ever run! We blew through the (what we thought) unrealistic goal of $5 Million, and our totals now exceed $6 Million ($6.11 Million to be exact). THIS IS A RECORD – NO OTHER CLASS IN USNA HISTORY HAS RAISED THIS MUCH FOR A CAMPAIGN! My thanks to all of you (and especially our anonymous donor who set a "matching" goal of $2.5 Million that we all met). Our collective effort has allowed us to contribute to the moral, mental, and physical dimensions of midshipmen development through the funding of four separate projects, which are listed on the slide below: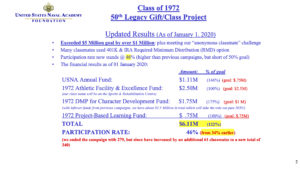 Jeff Beard
«
ALITC – Coins now available!